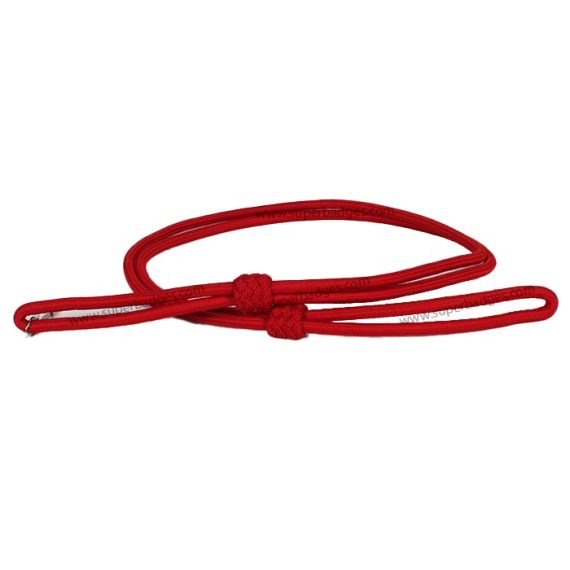 Military Red Whistle Cord
The Military Red Whistle Cord is a high-quality and durable whistle cord that is perfect for military and outdoor use. Made from sturdy nylon, this cord features a bright red color for easy visibility and a secure snap hook for attaching to belts, bags, or clothing. The whistle itself is loud and clear, making it ideal for emergency situations or signaling for help. Whether you're in the field or on a hike, the Military Red Whistle Cord is a must-have for any outdoor adventurer.
Customization: We make lanyards in custom sizes, colors and designs. Contact us for further information.
Description
The Military Red Whistle Cord is an essential tool for outdoor enthusiasts, hikers, campers, and military personnel. Made from durable, high-quality materials, this whistle cord is designed to withstand the toughest conditions and provide a reliable means of communication in any situation.
The cord itself is made from a strong, braided nylon material that is both durable and comfortable to wear. The cord measures approximately 32 inches in length, making it easy to wear around the neck or attach to a backpack or belt. The cord also features a quick-release buckle, allowing you to easily detach the whistle when you need to use it.
The whistle itself is made from a bright red, high-impact plastic that is easy to spot in any environment. The whistle is designed to produce a loud, clear sound that can be heard from long distances, making it an ideal tool for signaling for help or alerting others to your location. The whistle also features a built-in pea that produces a high-pitched sound that can be heard even in windy conditions.
In addition to its signaling capabilities, the Military Red Whistle Cord is also an important safety tool for anyone spending time in the wilderness. The whistle can be used to scare off wild animals, signal for help in case of an emergency, or alert other hikers to your presence on the trail.
Overall, the Military Red Whistle Cord is a reliable, durable, and essential tool for anyone who spends time in the great outdoors. Whether you're a hiker, camper, or military personnel, this whistle cord is an important piece of equipment that can help keep you safe and communicate effectively in any situation.